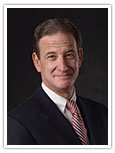 BRUCE GLAZER
Executive Vice President and Chief Financial Officer
Bruce Glazer was promoted to Executive Vice President and Chief Financial Officer of Kroenke Sports & Entertainment in November of 2010. Glazer oversees KSE's finance, risk management and internal audit departments.
Since 2004, Glazer has served as Executive Vice President and CFO of Altitude Sports & Entertainment and directed the KSE internal audit department. In addition to his work with Altitude, Glazer has assisted in the management of resort, ranch and vineyard investments owned by KSE founder Stan Kroenke.
Glazer joined KSE after more than 10 years at food processing giant, ConAgra Foods, Inc., where he held numerous senior financial positions within the company's various protein divisions including CFO of Monfort Beef Company. His responsibilities included all financial matters related to strategic planning, mergers and acquisitions, operations and information systems.
Prior to ConAgra, Glazer worked at accounting firm Ernst & Young and Iowa-based Master Manufacturing Co. A 1980 graduate of the University of Colorado with a Bachelor of Science degree in Accounting, Glazer is a member of the American Institute of Certified Public Accountants and the Colorado Society of Certified Public Accountants. Glazer is a board member of Temple Emanuel. He and his family reside in Denver.