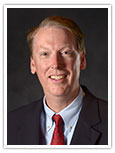 DOUG ACKERMAN
Senior Vice President, Venues
Doug Ackerman joined Ball Arena in 1999 following nine years with Ascent Entertainment Group's corporate accounting department.
Ackerman is responsible for all aspects of Ball Arena. He oversees financial reporting, financial transactions, budget preparations and all operations from booking to management of the facilities.
Ackerman is responsible for the Kroenke Sports & Entertainment investment in the Paramount Theatre, Dick's Sporting Goods Park and 1STBANK Center.
Prior to his work with Ascent, Ackerman worked for seven years with Ernst & Young. Ackerman graduated from Ohio Northern University and subsequently earned his CPA certificate. He and his wife reside in Parker with their three children.