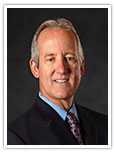 MARK WAGGONER
Senior Vice President, Finance
Mark Waggoner is responsible for all of the financial reporting aspects of the Colorado Avalanche and Denver Nuggets in conjunction with the NHL and NBA in his role as Senior Vice President, Sports Finance. He also serves as an active participant on various League finance committees.
Waggoner oversees all financial transactions for both franchises and is responsible for developing and maintaining budgets, working with the teams on matters involving insurance and other benefit programs.
Waggoner originally joined the Denver Nuggets in 1986 as the organization's accountant following five years of service in the public accounting profession in Denver. He was then promoted to his current position in 2002. Mark also serves on the Board of Directors for the Colorado Avalanche and Denver Nuggets community funds.
A native of Ann Arbor, Mich., Waggoner graduated from Central Michigan University in 1980 with a B.A. in business administration. He proceeded to earn his CPA certificate in 1982.