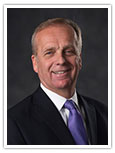 DECLAN J. BOLGER
Senior Vice President and Chief Marketing Officer
Declan J. Bolger is widely respected as a leading executive in the field of sports marketing with tenure in five U.S. professional leagues (NBA, NHL, MLS, MLB & NLL). In June of 2017, Bolger was appointed Senior Vice President and Chief Marketing Officer for Kroenke Sports & Entertainment and will oversee marketing for the Denver Nuggets (NBA), Colorado Avalanche (NHL), Colorado Mammoth (NLL) and Altitude Sports.
Prior to joining KSE, Bolger served as Vice President of Club Services for Major League Soccer. In this role he was charged with providing business consulting services to MLS clubs.
The former President of Stoneybatter Inc. a sports marketing consulting agency located in Portland, Oregon, with clients that included a mixture of domestic and international leagues and sports teams.
Bolger was hired as Chief Marketing Officer for the Portland Trail Blazers (NBA) in November 2003. He was a member of the Blazers' team owner Paul Allen's senior management team that was dedicated to revitalizing the brand and repairing the image of the franchise through reconnecting the city and organization. In his role of Chief Marketing Officer, Bolger oversaw all aspects of ticket sales and service, media/sponsorship sales and service, executive suite sales and service, marketing, communications, community outreach, fan development, game presentation and broadcasting for the Trail Blazers.
From 1999-2003, Bolger was the Senior Vice President at the Washington Capitals of the National Hockey League. At the Capitals, Bolger was responsible for sales, marketing and communications, including broadcasting, community development, fan development, game entertainment, media relations, merchandising, publications, ticket sales and youth hockey.
Bolger was also a member of the Florida Panthers (NHL) franchise since its inception in 1993. He was named vice president of marketing in July 1996 after serving as the club's director of promotions and marketing projects. With the Panthers, he oversaw ticket sales, communications, community development, advertising, promotions, in-game presentations, broadcasting, and suite/club sales for the new National Car Rental Center now the Bank Atlantic Center.
Prior to his career in Florida, Bolger was with Major League Baseball's Pittsburgh Pirates as the club's director of broadcast administration. One of his major responsibilities with the Pirates included the expansion and management of their extensive radio network.
A native of London, England, Declan J. Bolger is a graduate of St. Mary's College, University of London, with a degree in Education. He also attended the University of Massachusetts-Amherst, where he earned a master's degree in sports management. From 2008 through 2017 he was an Adjunct Instructor of Sports Business/Woodard Fellow at the University of Oregon's James H. Warsaw Sports Marketing Center.