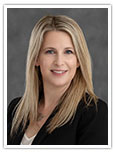 MICHELE STURGELL
Senior Vice President of Human Resources and Employment Counsel
Michele Sturgell joined Kroenke Sports & Entertainment in January of 2021. She oversees KSE's Human Resources Department and acts as KSE's Employment Counsel.
Michele joined KSE after nearly six years at Employers Council Inc., where she held a few positions within the company's investigations division including managing counsel. Her responsibilities included overseeing over two hundred annual investigations, consulting with local companies on employment law issues, teaching investigations classes and presenting at annual conferences.
Prior to Employers Council, Michele worked as a trial attorney, conducting over seventy jury trials. In her free time, Michele serves as a mentor to first generation college students, assisting with graduate school and career advice. Michele also volunteers with local animal shelters and charities.
Michele obtained her bachelor's degree from the University of Denver. Later she earned her Juris Doctor from Arizona State University and her M.B.A from the University of Colorado-Denver. She and her family reside in the Denver area.