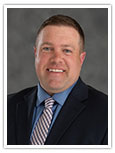 SEAN REAM
Senior Vice President of Team Ticket Sales
In his role as Senior Vice President of Team Ticket Sales, Sean Ream oversees ticket sales strategy for the Colorado Avalanche, Denver Nuggets, Colorado Mammoth and the Colorado Rapids. He is charged with the growth of each team's membership base and the execution of strategic ticket initiatives, aimed to fill Ball Arena and Dick's Sporting Goods Park for the four teams' home games.
Ream joined KSE in 2013 as the Vice President of Ticket Sales and Service for the Colorado Rapids. In 2015, he transitioned to the same role with the Colorado Avalanche. During his time at KSE, he's had the distinct privilege to support the 2015 MLS All Star Game at Dick's Sporting Goods Park and two NHL Stadium Series games (2016 & 2020) here in Colorado.
Prior to joining KSE, Sean held leadership positions with Major League Soccer, the Phoenix Coyotes, the National Museum of Crime & Punishment and the Bowie Baysox Baseball Club. Ream is a proud graduate of Pennsylvania State University. He and his family reside in Centennial.